Galyna D. Nefodova
Senior teacher of the department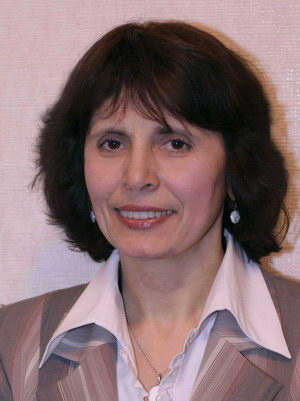 Education:
Taras Shevchenko National University of Kyiv, 1979, Department of Physics and Mathematics, major: Mathematics, qualification: a professor of Mathematics. Diploma with honours
Academic degree:
Candidate of Sciences in physics and mathematics, 1989. Dissertation thesis: The study of periodic solutions in differential-operator equations
Scientific interests:
Investigation of differential-operator equations
Latest works:
7. Zaderey N., Nefodova G. Students' education on the examples of mathematical Ukrainian elite. Abstracts of XII International scientific conference named after academic Kravchuk, 15-17 May 2008.
8. Zaderey N., Nefodova G. The organization of education process in higher mathematics for technical departments' KPI students. Proceedings of the XVI International Scientific and Methodological Conference "Methods to improve the basic education in schools and universities", Sevastopol, 21-25 September 2009.
9. Zaderey N., Nefodova G. Implementation of the Bologna Process in higher mathematics course for KPI students of technical departments. Abstracts of IV All-Ukrainian scientific conference "New information technologies in education, natural and mathematical sciences", Melitopol, 2010.
Latest papers:
1. Zaderey N., Nefodova G. Mathematical Model study of risks in the economy. International Scientific Conference "Mathematics in the modern technical university", 19-20 April 2013, Kyiv: Proceedings of the conference. - K.: "KPI", 2013. - 536 p. - Ukr., Rus, Eng. - P. 56-58.