Nadiia M. Zaderey
Associate professor of the department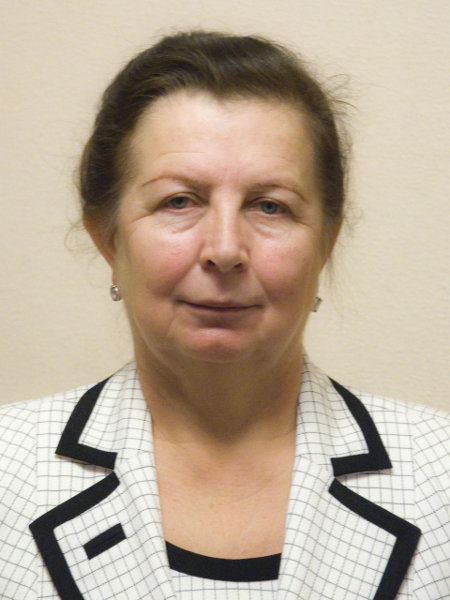 Education:
Lesya Ukrainka East European National University in 1970, Department of Physics and Mathematics, major: Mathematics, qualification: a professor of Mathematics. Diploma with honours
Academic degree:
Candidate of Sciences in physics and mathematics, 1982. Dissertation thesis: Approximation of periodical differentiable functions by amounts of Fourier and Vallee Poussin
Academic rank:
Associate Professor, 1989
Scientific interests:
Fourier series, the theory of functions and approximation theory
Latest works:
7. Zaderey N., Nefodova G. Students' education on the examples of mathematical Ukrainian elite. Abstracts of XII International scientific conference named after academic Kravchuk, 15-17 May 2008.
8. Zaderey N., Nefodova G. The organization of education process in higher mathematics for technical departments' KPI students. Proceedings of the XVI International Scientific and Methodological Conference "Methods to improve the basic education in schools and universities", Sevastopol, 21-25 September 2009.
9. Zaderey N., Nefodova G. Implementation of the Bologna Process in higher mathematics course for KPI students of technical departments. Abstracts of IV All-Ukrainian scientific conference "New information technologies in education, natural and mathematical sciences", Melitopol, 2010.
Latest papers:
1. Zaderey N., Zaderey P., Tolkach R. Approximation of bounded analytic functions and the Fejer sums of Taylor series. Recent developments in the analysis: International Conference, 30.09-03.10 2010, thesis - Chernivtsi, 2010
2. Zaderey N., Zaderey P. The conditions of uniform convergence of generalized Faber's series within the area. International Conference "Mathematical Analysis, Differential Equations and Applications", abstract. Bulgaria, 2010
3. Zaderey N., Horyslavets T. On the regularity of linear methods of Taylor's summation. International Conference "Theory of approximation of functions and its applications", dedicated to the 70th anniversary of Corresponding Member of NAS of Ukraine, Professor O. Stepantsia.
4. N. Zaderey, F. Abdullayev, P. Zaderey. On the approximation of analytic-functions by Fejer sums of Faber polynomials. Bulgarian-Turkish-Ukrainian scientific conference Mathematical analysis differential equations and their applications. Sunny Beach, September 15-20, 2010. Edited by A. Andreev and L. Karandzhulov. Sofia, 2011.
5. Zaderey N..M., Zaderey P.V. On Lebesque's Unequality on Classes -differentiable functions. Turkish-Ukrainian Scientific Conference Mathematical Analysis, Differential Equations and Their Applications. Abstracts.